1987 - 2017
30 YEARS OF THE GAME
download
version franšaise
my other remake
for the 25Th anniversary of the game BARBARIAN in 2012,
i have created an "open source" clone of the version
Amstrad CPC , Commodore 64 , Spectrum and Atari ST ,Amiga 500, PC and AppleII
i have done the first remake (CPC) in six months (from february to july 2012)
to arrive at the perfect cloning, i update them regularly.
so if you want to have the best version, please check date of your version in the DOWNLOAD link
at the end, i have port all those remakes for Sega Genesis ,Nec PcEngine and Atari Jaguar (work in progress)
here are some screenhots of my remakes
8-Bits versions

16-Bits versions : AMIGA 500 et Atari ST

the remakes of the 1988 US version versions, in 640x400 :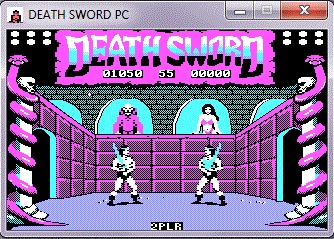 i have tried to re-created the originals as in 1987, as faithfully as possible ,
whether is be for entertainment but also for graphics
despite all my work , there is some differentiate with the original game.
purists will find them quickly .

the game is "open Source", so if someone can correct this little errors, it's possible.
the key for me and those who loved (and still love) this game , is to do it as it was created in 1987
it also lacks the MAC and LINUX versions

the programming language for PC is BASIC, thanks to the awesome software QB64 (www.qb64.net)


QB64.net

which allows to program in BASIC on newer computers
that proves that BASIC is not dead !!
and for the Sega Genesis, always in basic language of course, thanks to BasiEgaXorz, the powerful compiler of Joseph Norman :



http://devster.monkeeh.com/sega/basiegaxorz/
who allows to make a rom in one move !!

good play !
F.L
last update, 2019 february 06